Por Helen Conway
Fotos: The Best of Santiago
Imagina lo siguiente: son las 11 de la mañana y, aunque el sol ya está alto, brillando en un cielo sin nubes, disfrutas de una agradable sensación de frescura sentado a la sombra de una enorme acacia, mientras una brisa te acaricia suavemente el cabello. El silencio es roto únicamente por el canto de algunos pájaros y el sonido del fluir del agua que murmura en una fuente bordeada por amapolas de California. Te rodean jardines de estilo campestre, con rosales que se intercalan con caléndulas, lirios completamente florecidos y aquí y allá destacan como manchones las siemprevivas púrpuras y rosadas. Podrías perfectamente pensar que estás en Inglaterra, en un cálido día hacia finales de Mayo. Sin embargo, los olivos jóvenes, el enorme y centenario cactus y los árboles nativos chilenos obligan a abandonar la idea: este oasis de paz está en Chile, apenas a una hora y media de Santiago.
Esto es Casona, el hotel boutique de 10 habitaciones perteneciente a la viña biodinámica Matetic. Absolutamente todo fue perfecto durante mi estancia: desde la exquisitamente suave cama superking con sus sábanas de algodón hasta la prístina piscina y, por supuesto, estos hermosos jardines.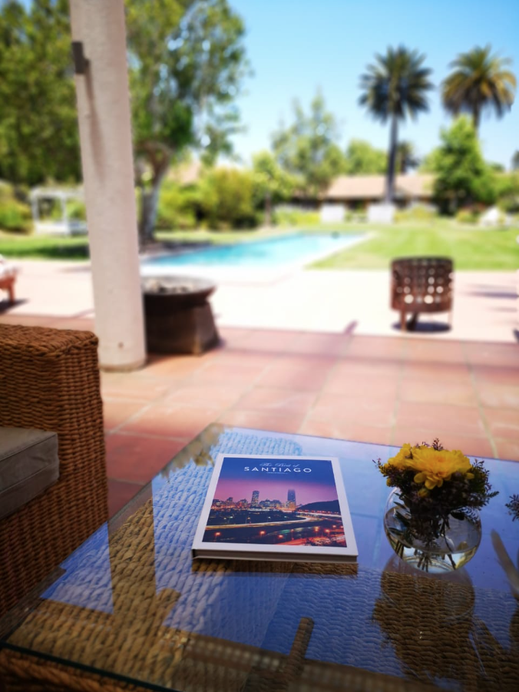 Tanto el desayuno como la cena son servidos por un atento personal en un comedor exclusivo para los huéspedes.  El menú es muy interesante y variado, e incluye opciones vegetarianas y saludables. Nos entretuvo un simpático pajarito llamado cortarramas chileno (o como le conocen localmente, "rara") que insistentemente se golpeaba contra las ventanas, sin sufrir ningún daño al parecer.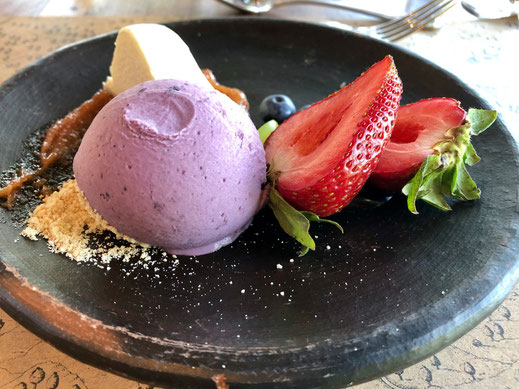 Nos costó bastante abandonar todo esto para ir al tour guiado por la bodega, pero valió la pena. Cuando se visita la bodega, distante a 9 kilómetros del hotel y construida sobre una colina, se puede dimensionar realmente la escala de esta propiedad, la cual se extiende hasta donde alcanza la vista. Viña Matetic es, en realidad, parte de una gran hacienda familiar que posee ganado, plantaciones de arándanos, de eucaliptus y también 160 hectáreas de viñedos manejados biodinámicamente.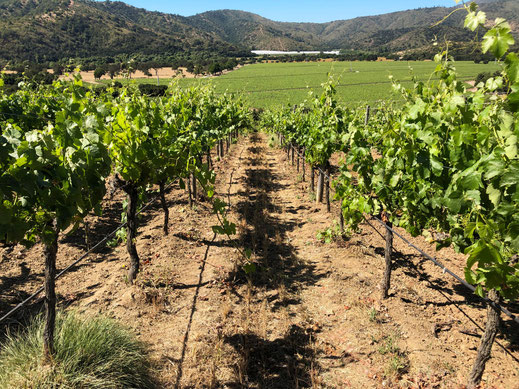 El viñedo es tan extenso que pertenece a dos zonas vitivinícolas: San Antonio y Casablanca. Se cultiva Sauvignon Blanc, Chardonnay, Pinot Noir, Syrah y un poco de Gewürztraminer y Riesling. Para completar el portafolio de vinos, se trae Cabernet Sauvignon y Carmenère desde una región más cálida. 
El diseño del edificio es muy interesante, pues en la bodega se utiliza la fuerza de gravedad para reducir la necesidad de bombeos, minimizando el requerimiento de energía; la regulación térmica y de humedad de la sala de guarda de barricas se mantiene gracias a la piedra local utilizada en la construcción junto con la óptima ventilación. Como en el hotel, todo está muy bien pensado y en perfecto orden.
Por supuesto, ninguna visita a una bodega está completa sin la degustación. La viña posee una reputación de vinos bien hechos, limpios, frescos, fundamentalmente monovarietales; disfrutamos un crocante y aromático Sauvignon Blanc, un equilibrado y seductor Chardonnay, un frutoso y herbáceo Pinot Noir y un Syrah de clima frío rico y complejo, todos de la línea EQ. 
También probé el Matetic Coastal Brut, un vino espumante producido mediante método tradicional, en base a Chardonnay y Pinot Noir, que estuvo dos años guardado sobre sus lías antes del degüelle (bastante más que muchos otros vinos espumantes). Deliciosamente complejo y refrescante, este espumoso fue mi favorito entre todos los que probé.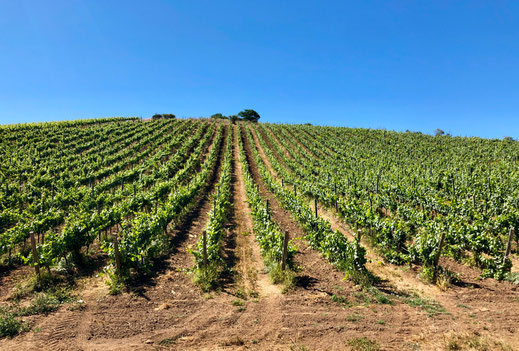 Ahora imagina lo siguiente: tras terminar el tour y la degustación, has dado un par de brazadas en la piscina. Disfrutada ya la cena y una o dos copas de vino, te embarga una sensación de agradable cansancio. De camino hacia la habitación, paseas por los jardines bajo la luz de la luna. Una vez adentro, cierras la puerta y las celocias. Todo está en paz, no hay ni un sonido que turbe el sueño mientras te acomodas en la enorme y suave cama. Qué manera tan agradable de completar tu paso por este oasis de calma.
Picture this: It's 11 a.m. and the sun is already high in the cloudless sky, but you're nice and cool, sitting in the shade of a mature Acacia tree, and there's a hint of a breeze gently ruffling your hair. It's quiet; just the sound of running water from the Californian poppy-fringed fountain and some birds singing nearby. You are surrounded by cottage gardens with roses interspersed by marigolds, just going-over irises and drifts of purple and pink statice. This could almost be England on a warm day in late May. However, the line of young olive trees, the huge centennial cactus and the Chilean native trees give it away: this peaceful oasis is, in fact, in Chile, a mere hour and a half away from Santiago.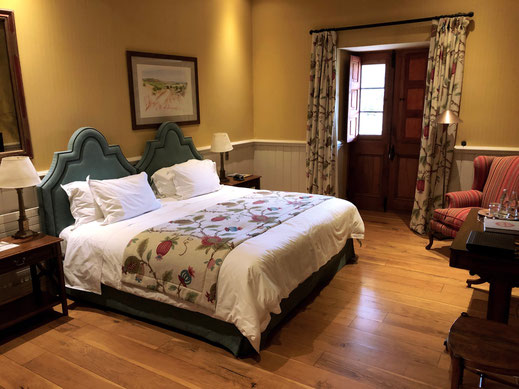 This is the setting of Casona, the 10-room boutique hotel belonging to biodynamic wine producer Viña Matetic. When I visited, I found everything just so: from the deliciously soft super king bed with its smooth cotton sheets to the ultra-clean swimming pool and, of course, those lovely gardens. 
Breakfast and dinner is served in a hotel guests-only dining area with attentive waiters. The menu was interesting and varied, including vegetarian and healthy options. We were entertained by a handsome bird called a rufous-tailed plantcutter (known locally as "rara"), which kept head-butting the windows, seemingly without coming to any harm.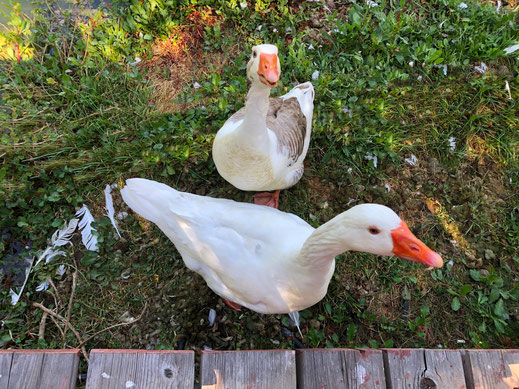 All in all, we found it really quite hard to tear ourselves away for the winery tour, but it was well worth the effort. When you visit the winery, situated at the top of a hill a full nine kilometres away from the hotel, you truly appreciate the scale of this operation, which spreads out as far as the eye can see. Viña Matetic is, in fact, part of a very large, family-owned estate which has herds of cattle and blueberry and eucalyptus plantations as well as its 160 hectares of biodynamically-farmed vineyards.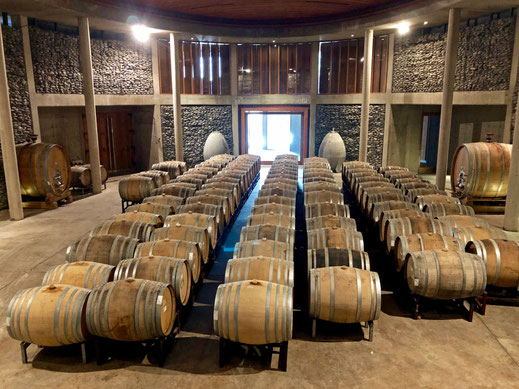 In fact, the vineyards are sufficiently spread out to fall into two appellations: San Antonio and Casablanca. Here they grow Sauvignon Blanc, Chardonnay, Pinot Noir, Syrah and a little Gewürztraminer and Riesling. They also bring Cabernet Sauvignon and Carmenère grapes from a warmer region to round out their range. 
The winery building design is very interesting, using gravitational design to reduce the need for electric pumps and local stone and maximum airflows to keep the barrel room cool and humid. As in the hotel, everything is well thought-through and very orderly.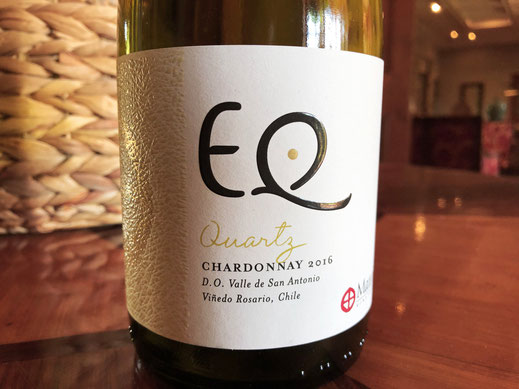 Of course no winery visit is complete without a tasting. The winery lived up to its reputation for well-made, clean, fresh, mostly single variety wines and we enjoyed a crisp and aromatic Sauvignon Blanc, a well-balanced and seductive Chardonnay, a red fruit and herbal Pinot Noir and a rich and complex cool-climate Syrah, all from their EQ range. 
I also checked out Matetic's Coastal Brut, a traditional-method sparkling wine made with Chardonnay and Pinot Noir, which has almost two years of lees-ageing prior to disgorgement (rather longer than many sparkling wines). Deliciously complex and refreshing, this sparkler was definitely my favourite from their range.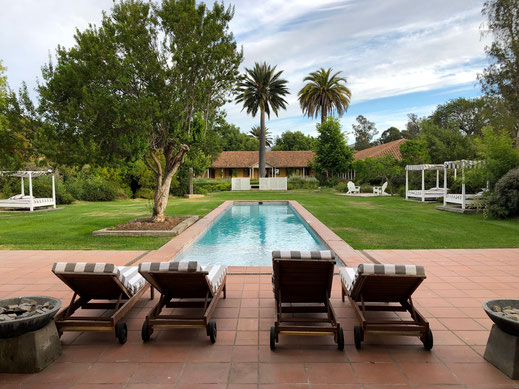 So, imagine this: you've swum a couple of laps in the swimming pool, done the winery tour and tasting. You've enjoyed dinner with a glass or two of wine and feel pleasantly tired and replete. You stroll by the light of the moon through the quiet gardens back to your room, close the door and the shutters on the windows. All is peaceful; there's not a sound to disturb your sleep in that big, soft bed. What a pleasant way to round off your stay in this oasis of calm.
---