Imagina una exclusiva trilogía The Macallan para maridar con quesos Premium en The Ritz-Carlton, Santiago el día y momento que quieras… 
¿Por qué Whisky y quesos? (MAC&CHEESE) debido a que ambos son productos íconos mundiales completamente arraigados a las tradicionales, desde sus propios procesos de elaboración hasta el momento de su consumo.  Tanto el Whisky como el queso son un claro ejemplo de arte, ambos involucran elementos nobles como sus  insumos,  hasta la destreza y experiencia de sus artesanos, sumado al  tiempo y la espera.
El rango de notas de sabor que poseen las distintas líneas The Macallan, son el complemento perfecto para la cremosidad que entregan los  quesos, entonces, por qué no reunir en un sólo lugar a estos dos grandes y disfrutarlos sin apuros en el acogedor Ritz Bar de unos de los hoteles con vasta tradición en el mercado como The Ritz-Carlton, Santiago.
Desde ahora se podrá vivir ese #TheMacallanMoment, seleccionando cualquiera de las 3 trilogías de este exclusivo Single Malt y maridarlo con quesos, cada tiempo explicado por uno de los Bartenders del Hotel, capacitados por el Brand Ambassador de la marca, John Scott.
MEETING THE ROOTS*
The Macallan Fine Oak 12 años | The Macallan Amber | The Macallan Fine Oak 15 años
$22.000 p/p
MAGHELLAN*
The Macallan Edition Nº3 | The Macallan Sienna | The Macallan Fine Oak 18 años
$48.000 p/p
THE SPIRIT OF MACALLAN*
The Macallan Fine Oak 18 años | The Macallan Fine Oak 21 años | The Macallan Rare Cask
$120.000 p/p
*Cada presentación de 1oz.
Tel. +562 2470 8500
Dirección: Av. El Alcalde 15, Las Condes.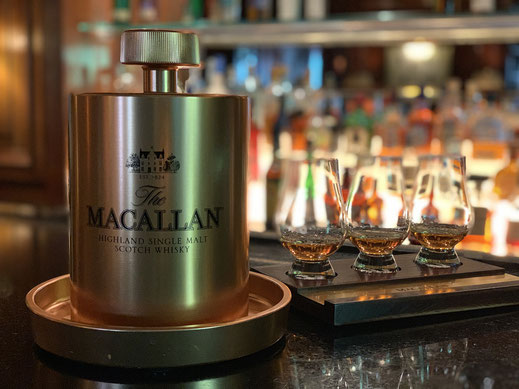 ---